What is the Heatworks Model 1?
As ISI Technology, the inventors of the Heatworks model 1, say it is the most advanced, reliable, energy and water saving electric water heater in the world. Its state of the art electronic technology directly energizes and heats the water molecules, unlike the old-school models which use resistance heating elements to heat the water with. It is supposed to eliminate all failure modes of conventional water heating technology and provide more features such as WiFi or "smart grid" connectivity to measure and control temperature, duration, and power levels, at the same or less cost.
The HEATWORKS MODEL 1 is a tankless electric water heater which revolutionizes the way water is heated. It produces instant, endless hot water while providing up to 40% energy savings and 10% water savings. If what they state is tru you can say goodbye to all those countless standing around waiting for heating elements to heat up in order to then heat the water and no more timing your mornings around having enough hot water or having the hot water run out in the middle of a shampoo.
HEATWORKS MODEL 1 tankless water heaters provide a consistent, precise, reliable stream of hot water, even at low flow rates.
The HEATWORKS MODEL 1 autosenses voltage and reduces comparable SKU, or model, decisions from dozens for competitors to one for MODEL 1, which makes the MODEL 1 able to fit virtually any application.
Why Buy one?
In the words of inventors: "Because it's the best!" Existing water heaters are stuck in the past—and not very good. And these outstanding features of the MODEL 1 can sure backup their statement:
Saves water & saves energy
Highest comfort level and user experience through excellent temperature control and endless hot water
99%+ efficient
Many application options
WiFi compatible – allows remote measuring and control of temperature and power levels
Most reliable heater available
Compact 12.5" long x 6" wide
HEATWORKS MODEL 1's performance, and reliability far surpasses all electric tank and tankless units. DOE estimates that a typical family can save $100 or more per year with a tankless water heater". Department of Energy supporting article .
Compared to all other existing tankless electric water heaters, the MODEL 1 has none of their existing failure modes, and has more features (better temperature control, no scalding, longer life, easier model selection, etc.) increased reliability, and no maintenance! Placing a MODEL 1 on the outlet side of your existing gas or electric tank type water heater can almost double the amount of effective hot water you have. All tank type water heaters have a certain capacity. A 40 gallon water heater doesn't have 40 gallons of useful hot water, because for every gallon of hot water that leaves, a gallon of cold water flows into the tank. This effectively means that the actual hot water available is 33-50% (less than 20 gallons) of the tank's storage capacity.
MODEL 1 can provide enough hot water for one shower at a time in most parts of the country. When replacing a tank-type water heater and wanting to take two showers at a time, there could be a need for two items. It's operation is simplicity itself. You install the MODEL 1 in your hot water piping. As the water coming out of the tank type water heater starts to cool, the MODEL 1 will add the incremental amount of heat required to raise the temperature to your desired temperature, and therefore be able to "extend" the amount of useful hot water you have available. The MODEL 1 "extends" the amount of useful hot water at over 99% efficiency, but only when you need it.
Installation
The MODEL 1 can be installed in the hot water piping in a remote location that is far from the existing water heater, such as a master bathroom or an outdoor shower. This saves a significant amount of water, and increases user satisfaction, and does this with efficiency greater than 99%!
The same "extender" concept can work in solar hot water applications. The HEATWORKS MODEL 1's ability to accept preheated water and outstanding temperature control clearly differentiates it in this application. Other applications include log cabins, camp grounds and mobile showers.
Heatworks Model 1 V.S. existing electric tankless water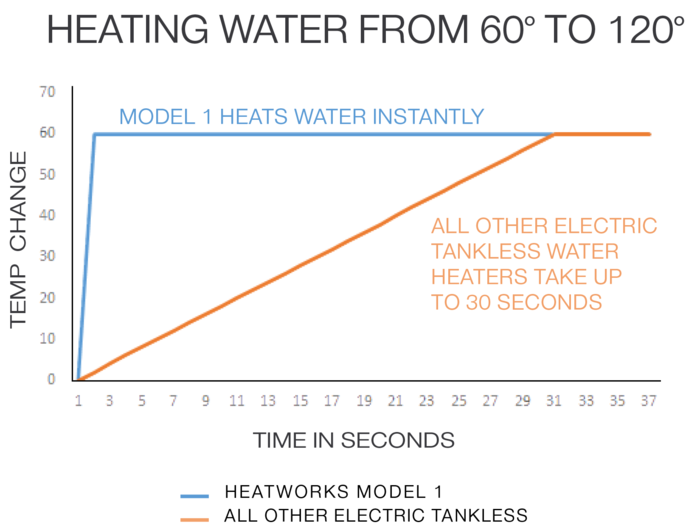 All existing electric water heaters rely on convective heating elements. Operational and safety issues with the heating element technology include premature failure of heating elements and flow switches, scalding issues related to thermal mass, unacceptable low-flow water temperature control, inability to turn on at flow rates less than 0.5 gallons per minute, and inability to operate in intermittent or aerated water flows. In short, antiquated, unreliable, and inefficient.
Heatworks Model 1 Specifications:
Delivers 2.0 GPM of hot water at 240 VAC and 48 amps (multiple units can be mounted in parallel, or in several places, to provide more hot water)
Accepts preheated water
Tested to UL standard 499
Approximately 16 lbs, and 12.5″ long by 6″ in diameter
WiFi module be available in Spring 2014 and will plug into any MODEL 1 purchased now
3 year warranty, with full unit exchange policy should you need it
No annual Maintenance
Super quiet (yes, the other ones are noisy!)
Comes with universal mounting brackets
To back this project and receive the Heatworks Model 1 presale you can back their Kickstarter Campaign.