Your companion for the worst of situations
In the event of emergency the American Red Cross ARCPT300W Axis Self-Powered Safety Hub is an ideal companion with features you would need to survive power outage, natural disaster or just keep you comfortable whether you are at home without any electricity or on the road travelling. To keep it operating you have several options: you can hand crank the battery powering the Red Cross Safety Hub, plug it into PC, laptop or electrical socket via mini USB plug or power it by 3 AAA batteries.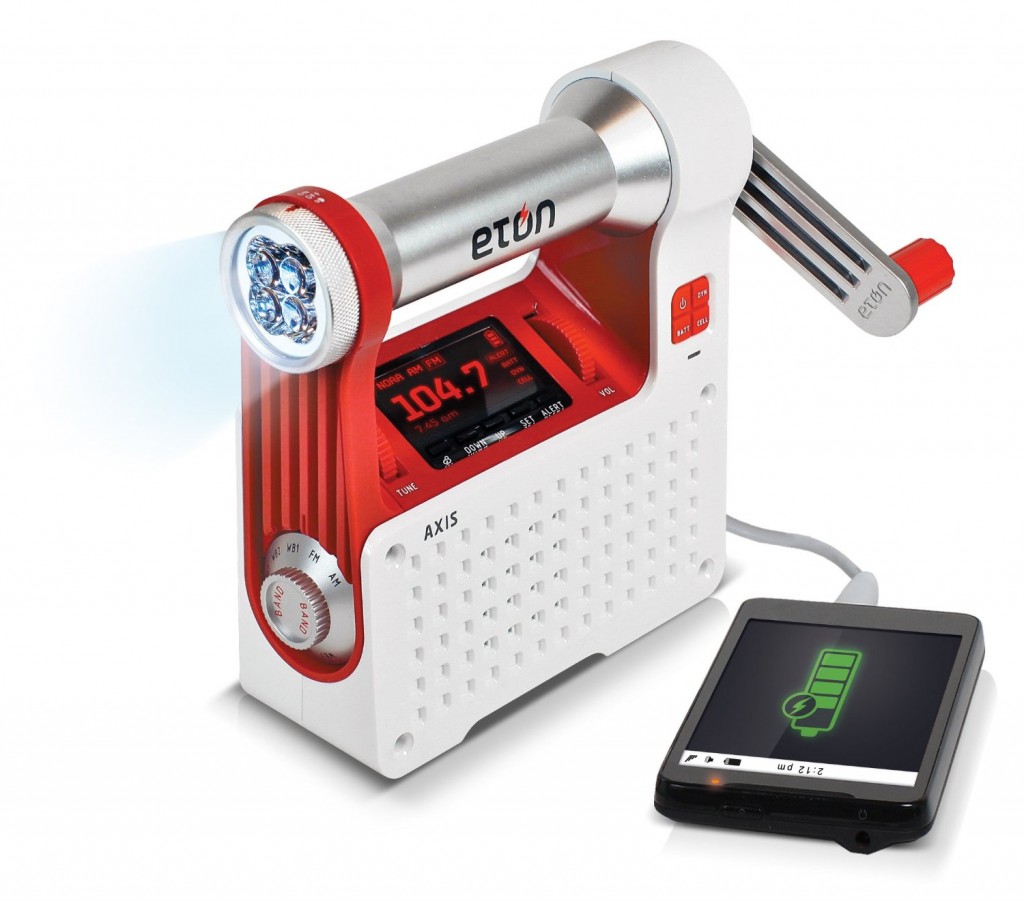 Features that can be put to use in emergencies
When in need of a wind-up radio for your camping, travelling or emergency activities the Eton Axis radio is a reliable option to suit your needs as it comes equipped with an AM/FM/NOAA weather radio. Extendable telescopic antenna serves for best reception for FM or WB stations and easy to use TUNE knob makes scrolling through radio stations really easy. In a neatly designed package it delivers a hand crank battery charger for charging your phones through the dynamo, the short wave radio bands receive and a decent light. The built-in Ni-MH batteries, alongside conventional AA battery compatibility and the hand crank generator offer multiple options to create or store power for Eton Axis, smartphone or other electronic devices. It has a low voltage protection circuit to deter the battery from dropping too low in voltage for cell phone charging. If the battery symbol shows three bars, it is capable of supporting a cell phone. When it begins blinking, charging will stop and a recharge of the Axis' battery is required to resume cell phone charging.
The NOAA  Weather Alert feature
The NOAA Alert feature is great when you don't want to listen to the radio but still want to follow the weather alerts. By pressing the ALERT button the Eton Axis radio can be set to the Alert function which will turn the radio sound off but continue monitoring the NOAA station of your region for weather alerts. In case of Alert broadcasts on the frequency, the sound automatically turns back on and you will hear the Alert message broadcast.
The weather channels come pre-programmed as follows:
Channel 1 162.400 Mhz
Channel 2 162.425 Mhz
Channel 3 162.450 Mhz
Channel 4 162.475 Mhz
Channel 5 162.500 Mhz
Channel 6 162.525 Mhz
Channel 7 162.550 Mhz

 Features
Digital tuner with AM (520-1710 KHz) & FM (87-108MHz)
NOAA weatherband with alert – all 7 channels plus "Alert"
Built-in 4 white LED light source
1 flashing red LED
Can be powered from three different sources:
Self-Powered Aluminum Dynamo hand crank that generates massive power
From 3 AAA batteries (not included)
AC Power
Connectors, with rubber gaskets/plugs to seal out moisture, 3.5 mm headphone output, DC-in, USB phone charger and AUX-IN input
Telescopic antenna provided for maximum range and reception
USB cell phone charger (USB cable not included)
3.5 mm headphone output