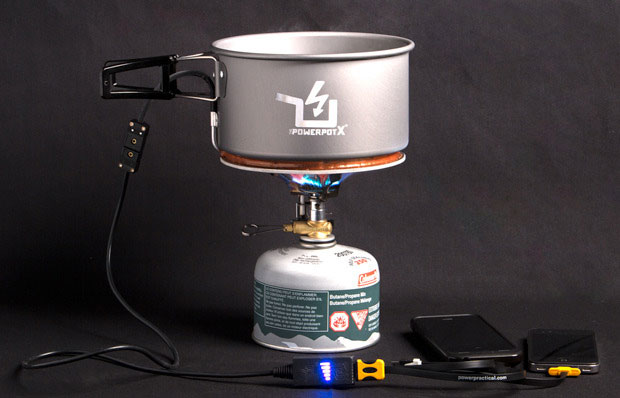 From the innovative team behind the PowerPot there is a new product emerging. While still in the process of getting funded, the PowerPot X promises a lot and will definitely not disappoint you. Behind the cool design there is an innovative portable generator that turns heat into electricity, while you cook your favourite camping meal in the middle of nowhere. Now with 10 Watts of power at your fingertips this should be enough for your electricity needs as it will enable you to charge a tablet, two phones or 4 go-pro cameras at one time.


[ad#wb3]
More power means faster charging and more time for adventuring and other activities. Although most thermoelectric generators in the market have a very low "maximum" output, which is around 2-4 watts, in practice struggle event to exceed 1-2 watts. Even solar panels struggle to provide their expected power output in less than perfect weather conditions and completely lose functionality at night. Such low power output is impractical for charging modern smartphones and other common USB devices. As the inventors claim, the PowerPot X fixes this problem by bringing a full 10 watts of max power output. Even under mediocre conditions it can provide around 5 watts of power which is enough for charging any device.
New and improved PowerPot X is more efficient, builds a power meter right into the cord, and now comes in two sizes: the 2.3 liter PowerPot X which is perfect for cooking for two and the larger 3.8 liter PowerPot XL for larger groups. This will add more power and more capacity to the PowerPot series.
How does PowerPot work?
Its lighter design is especially important when you're on the road, hiking, or just carrying it to show off in front of friends. New features such as two USB ports on the PowerPot X regulator make it even more practical providing you capabilities for simultaneous charging of two devices. You can be the cool guy who helps damsel in distress with charging her iPhone on remote camping site. At max output, you will be able to charge two smartphones at top speed (5W), or if you only use 1 USB port you can charge tablets at full speed (10W).
To back this project and / or get the PowerPot x presale you can back their Kickstarter Campaign.