If you are afraid of the dark a chance is that sooner or later you will ran out off batteries and the dark night will get you unprepared. You can easily avoid this by having a Freeplay Jonta Wind Up torch always packed with you on your journeys. The handy wind up mechanism enables everlasting beam of light powered by human hands rotating the crank in both directions. The harder you spin the more energy is created and stored. The LED light indicates the optimum winding speed and the low battery level.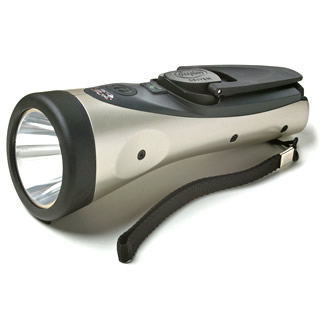 This handy wind up torch is perfect for campers, backpackers, treasure hunters and Indiana Jones wannabes (he would definitely have one packed with him).
The manufacturer assures that the Freeplay Jonta Wind Up torch is both energy efficient and on the cutting edge of new technology which enables that a mere 30 second wind of the handle provides about 10 minutes of light – and you can always wind more to get as much shin-time as you desire. The fully charged torch provides up to 12 hours of continuous ultra bright light.
The Freeplay Jonta Wind Up torch might easily be the last flashlight you will ever buy.
Features:
virtually everlasting light
a choice of three light settings: energy saving, full power, emergency flash
effective beam – over 50m (55yards)
signal visibility over 3 km (nearly 2 miles)