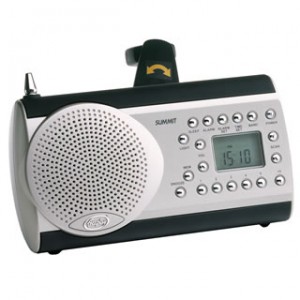 There are several wind up radios available on the market, but few of them offer multiple green energy rechargeable power options. The Freeplay Summit Radio is a first-class representative of the multi rechargeable power sources radios, which you can power not only using body motion when cranking the handle, but exposing to the sun rays as it has solar power cells included. Naturally you can power it by using AC charger for electrical charging when available although it would almost be a shame not to use the green energy when having the option.
As manufacturer says "key features include coverage of 4 wave bands (FM/MW/SW/LW), digital tuning and 30 station presets. An LCD digital display panel with backlight enables the user to see the selected radio station, clock and alarm settings – day or night, making the Summit an ideal bedside clock radio."
This ultimate alternative energy radio is small enough to fit any small backpack or handbag and the global frequency coverage makes the Summit an ideal travel companion, whether trekking, camping or sailing.
Power independence which the Freeplay Summit Radio offers will enable you to listen to the music wherever you are.
Features include:
Wind-up, Solar, and Rechargable power options
4 wave bands (FM, AM, SW, LW)
Digital tuning
30 station presets
LCD digital display panel
Clock and Alarm