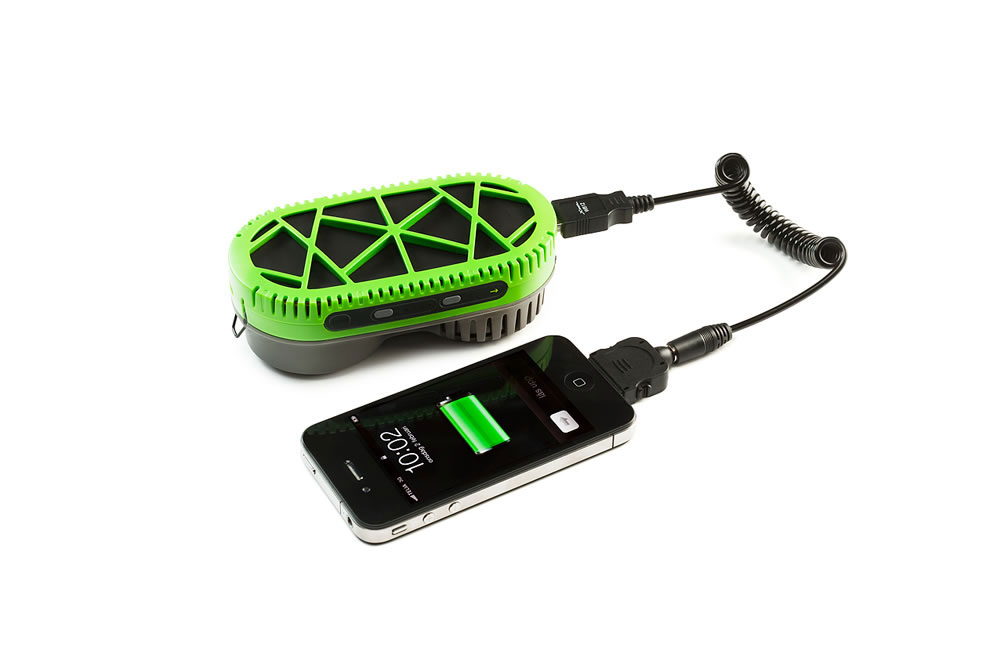 A Water Ran Sodium Silicide Battery Charger is not a hand crank battery charger but it does it trick with the portability and usefulness of energy production. myFC™, an innovative fuel cell technology company from Stockholm (Sweden), developing fuel cell chargers and low cost fuel cell components which efficiently extend battery life of portable electronics from cell phones to laptops, has presented a new innovative USB battery charger called the PowerTrekk used for cell phones, smart phones, gps devices, ipods and other gadgets. PowerTrekk is the first commercial application of Sodium silicide, a new chemical powder developed by green energy company SiGNa Chemistry, put into the consumer product.
[ad#wb3]
HOW DOES IT WORK?
What is innovative about the PowerTrekk is that the battery charger runs on water reacting with sodium silicide as its main source to produce charge. The sodium is stored in a small round container (similar to a hockey puck) called a PowerPukk. Almost any type of water, including puddle water and saltwater, starts a chemical reaction with sodium silicide which produces hydrogen gas. To operate, hydrogen must be supplied to the fuel cell, and the fuel cell must be exposed to the open air. The chemistry process is said to be safe and eco-friendly with only a little water vapor as a by-product. The fuel cell inside PowerTrekk is a completely passive system. Without fans or pumps, the fuel cell silently converts hydrogen into electricity via its Proton Exchange Membrane.
RELIABILITY
As the myFC™ is explaining one tablespoon of water added to the sodium cell should charge a phone or other gadget for up to 10 hours. This new fuel cell power technology has some competitive edge over traditional and alternative energy portable chargers as the electricity is generated immediately as soon as the water is added to the sodium cell and compared to battery powered travel chargers, PowerTrekk offers reliable charging as the fuel packs do not deplete as batteries do and charging is neither impacted by weather nor the position of the sun, as for solar panels. The PowerTrekk, a lightweight pocket sized fuel cell charger has been designed for the active people who spend time away from the electricity grid and do not have access to conventional power in remote locations. The ability to simply insert a PowerPukk fuel pack and add water provides users instant and limitless power on the go and with enough replacement sodium cells and water you will have plenty of juice to power your gadgets for the trekking trip in the middle of nowhere.
[ad#wb3]
TECHNICAL DESCRIPTION POWERTREKK
Rated input (micro USB charging of the internal battery): 2.5 W
Rated total output: 2.5 W Fuel Cell Mode
Fuel Cell: 5.0 W Battery Mode
Internal Buffer:
Internal Buffer (Battery) capacity: 5.9 Wh (1600 mAh, 3.7 V)
Operation temperature: +5°C … +30°C
Charging Input Port: Micro USB-B
Charging Output Port: USB-A
Dimensions (W x L x H): 66 x 128 x 42 (approximate)
Weight: 175 g without Tray System / 240 g with Tray System
Enclosure: Splash Proof
As presented by the producer the PowerTrekk and PowerPukk meet industry security standards and can even be brought on an airplane passenger cabin.